In line with the model of HEP Group corporate governance, HEP d.d. operates and conducts some corporate-related business tasks as well as focuses, coordinates and monitors business acitivities carried out by its daughter companies.
The basic internal organization of HEP d.d. is based on Company's corporate governance and competence for individual activities.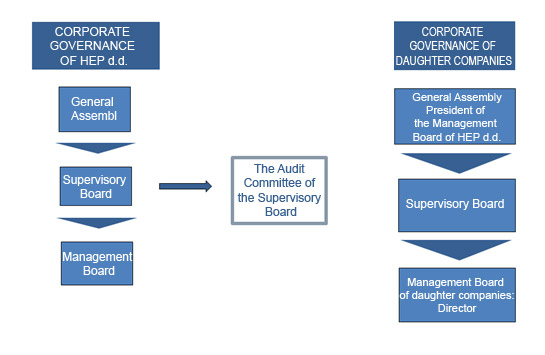 The Company conducts its business operations according to the law and the code of ethics, the principles of sustainable development and social responsibility.
A) As the corporate bond issuer, the Company implements most provisions of the Corporate Governance Code developed by the Zagreb Stock Exchange and HANFA (Croatian Financial Services Supervisory Agency) and published on the Stock Exchange official web page.
B) The Company has adopted the Code of Ethics – Principles of Business Conduct in HEP. In 2010, said Code was harmonized with the requirements of the Anti-Corruption Programme for State-Owned Companies. Together with other HEP Group members, the Company signed the statement of accepting the Code of Ethics in Business Operations, under which the guidelines of ethical behaviour of business entities in the Croatian economy have been set and adopted by the Croatian Chamber of Commerce.
In line with the consistent implementation of the Code principles, Hrvatska elektroprivreda d.d. has been growing and operating by applying a good corporate governance practice, and trying to contribute to a more transparent and efficient business operations by means of its business strategy and policy as well as key internal acts and a good business practice.
More on corporate events can be found
here
.