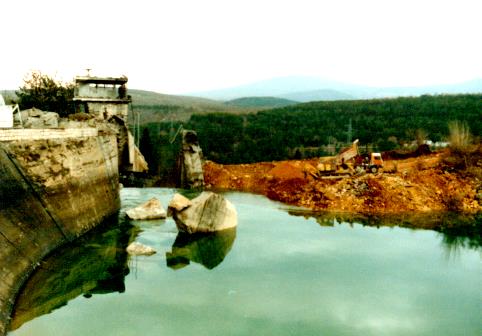 Rehabilitation and extension of the Peruća dam completed
War history of Peruća begins with the occupation of the dam and the engine room of HPP Peruća on 17 September 1991, after which the enemy closed the shutter on the basic nozzle, and raised the overflow shutter. This stopped the discharge of water from the accumulation used by downstream hydro power plants, so that the level of water at the end of December reached a critical level and endangered the dam. The overflow of clay core and dam crest threatened. During the negotiations with the enemy, on 1 January 1992 the overflow shutter was lowered by 90 cm, which reduced that risk to a point.
However, between 20 and 30 tonnes of explosives were left in the injection gallery and overflow part. In July 1992 UNPROFOR took over complete control and responsibility for the plant. Yet, despite the promises of international observers, in the afternoon of 27 January 1993, the occupants took over the object. On the next day, 28 January, UNPROFOR forces left the power plant, and the Croatian army managed to overpower the enemy, who activated the explosives during retreat.


On 28 January 1993 members of the Yugoslav army and rebel Serbs activated explosives in the control gallery of the Peruća dam. The dam partially broke, water permeated its inside and severely damaged it and threatened to completely damage and flood the whole downstream flow, to the town of Omiš. This was a unique example of a catastrophic war act and destruction scenario against the civilians. Fortunately, on the same day, HEP's experts came to the dam and acted quickly and efficiently. New basic discharge was opened and the flow of water from the accumulation enabled. The catastrophe was avoided.
During 1993 aggregates were repaired and put into operation. Because of severe damage of the dam during 1993 and 1994 the level of accumulation was very low (330 m. a. s. l.) Aggregates worked with minimum power of 1.8 MW, i.e. below the technical minimum. The rehabilitation of the dam started in August 1993. The rehabilitation was approved with plastic concrete diaphragm in the central part of the dam (in the clay core) by exchanging the material in the side and upper parts of the dam. The dam was higher by 1.5 meters, which increased the volume of accumulations by 33 million m3. The renovation was completed in 1995. After that first phase, in which the dam was principally repaired, started the exchange and renovation of energy equipment, which had been in a bad condition.
Read more
1995